Waterproof RFID Silicone Bracelets For Kid's Tickets in Waterpark
  RFID bracelet wristband is made of Silicone material together with 13.56MHz chip. The datas inside the chip can be read by related RFID reader. This type of wristband is contactless and it can be used in many circumstances. For instance, it can be used for access control in residential area. When the wristband is put close to the door, datas can be soon read by reader which attach to the door and thus the door open. The similar application can be also seen in amusement park, waterpark etc.
ANG Tech has experienced in producing RFID silicone bracelet wristband. We have a cooperated US client who uses the adjustable RFID silicone bracelet wristband in steamer ship for payment, hotel, and other recreation activities. By the end of 2016, we have supplied over 1,500,000 pcs of wristband to them. In 2019, they continue ordering the wristbands and the quantities keep increasing.
Description:
1.         Chip:
EM 4102 (125 KHz, 64 bit, R/O)
I-Code (13.56 MHz, 512 bit, R/W, ISO/IEC 15693)
1 S50 (13.56 MHz, 1K Byte, R/W, ISO 14443 A)
2.         Frequency: 125 KHz , 13.56 MHz , 860-960 MHz
3.         Protocol Standard: ISO/IEC 15693, ISO14443 and ISO18000-6C
4.         Operating Temperature : -30°C to + 75°C
Product feature:
Dimensions: Diameter: 65mm Circumference: 220mm Thickness: 2mm
Colors: Blue, Red, Green, Yellow, White, Custom & Logo Printing
Material: Silicone IP68
Storage temperature: -40 to 100 degrees C
Operating temperature: -40 to 120 degrees C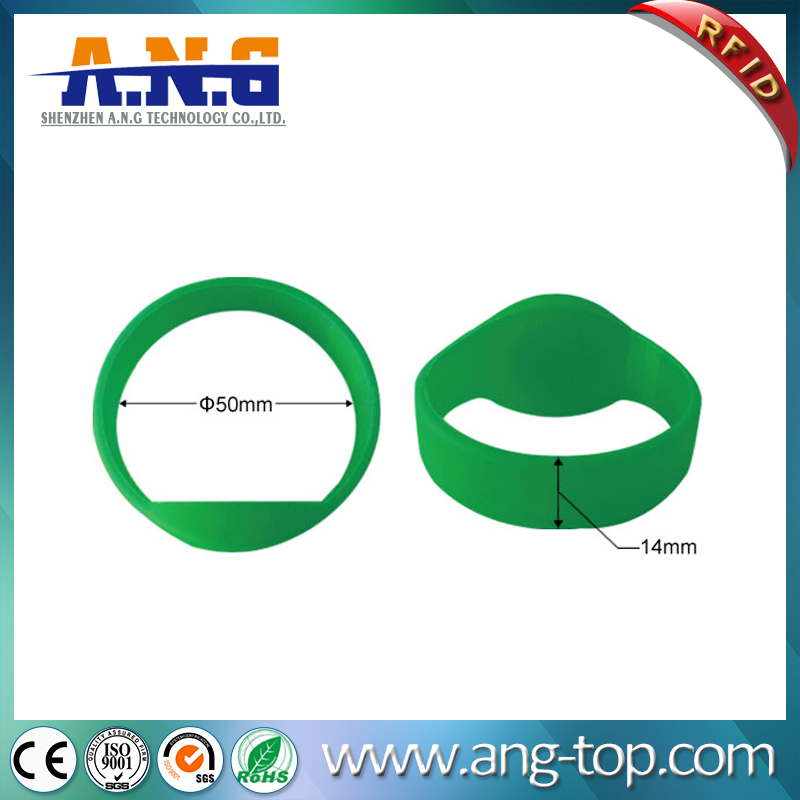 ---
Tags:
---