Steel wire Passive RFID Tire Tag inserting into tires for Vehicle management
 The A.N.G RFID tag has been developed to be embedded within the tire during the manufacturing process, where it will last the lifetime of the tire.
The tag provides a unique identification number which can be tracked to prevent tyre theft and cloning, in addition to the conventional asset tracking benefits inherent to RFID.
 This tag aslo is embedded other items in producing process. Such as trunk,box,etc,Its advantage is small size,resist at least 200℃,etc.
Product features
1, special designed and manufactured for inserting into tires, accords with tire prodiction technology and meets the deformation and pressure requirements of tire whole lifetime ;
2, It is the information carrier to realize tire whole lifetime management;
3,Sufficient storage space for writing and reading data flexibly,
Advantage
1,Flexible construction to withstand tire deformation for the lifetime of the tire;
2,Possibility to read and write user data into tag's internal memory;
3,Factory programmed tag identification number to prevent cloning.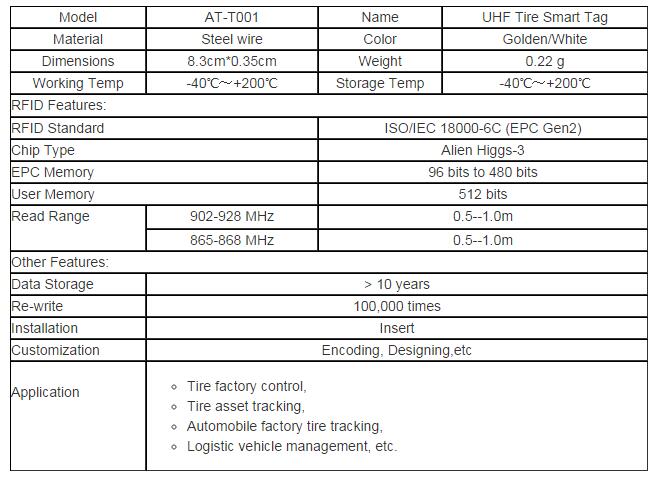 ---
Tags:
---