13.56Mhz RFID Silicone Bracelet Wristband for Amusement Park
A.N.G rfid wristbands, a provider of RFID access control activated over one million RFID tags at festivals last year. What's the big deal, you may ask? They're the reason why queues have been cut and ticket fraud is almost extinct. A.N.G's RFID wristband is some of the next-generation festival technology.
Music festival season is in full swing, and while it is pretty obvious how much work goes into organizing the event and setting up the stages, something you don't think about are the tickets. Think back to the last time you got a ticket to go into a festival? Seems like awhile ago right? You might have just received a wrist band that you flashed to security. Those days are long gone as Radio-Frequency Identification (RFID) are the latest (and honestly greatest) in festival technology.
Our new wearable RFID wristband has the following features:
• Genuine S50 1K
• 100% waterproof (made from Silicone)
• Laser engraved with unique serial number
• Printed with RFID logo symbol in white (as shown)
• Stock availiable for immediate delivery
• Small order quantities available (100 units)
• Mixture of colours available from stock: Black, Red, Green, Blue and White
• Customised are also available with your own logo- subject to 2 week lead time
About us: Shenzhen A.N.G Technology CO., Ltd located in Shenzhen, is a high-tech manufacturer specialized in production Radio Frequency Identification Smart Card, NFC Label and Card Reader.
1. Wide Range Products Item
2. Better Price With High Quality And Professional Package.
3. Be Specialized In RFID Tag, NFC Tag And Smart Card For Long Time.
4. Customize Products Depending On Different Project From Customers.
5. Professional Designer, Experienced Salesman And Workers.
6. Advanced Production Experience and Professional R&D Capability.
| | | | | | | |
| --- | --- | --- | --- | --- | --- | --- |
| Chip Model | Type | Frequency | Memory | Endurance | Data Retention | Protocol |
| MF S50 | Contactless | 13.56MHz | 1K Byte | 100,000 | 10 year | ISO14443A |
| MFS70 | Contactless | 13.56MHz | 4K Byte | 100,000 | 10 year | ISO14443A |
| MF Desfire D21 | Contactless | 13.56MHz | 2K Byte | 500,000 | 10 year | ISO14443A |
| MF Desfire D41 | Contactless | 13.56MHz | 4K Byte | 500,000 | 10 year | ISO14443A |
| MF Desfire D81 | Contactless | 13.56MHz | 8K Byte | 500,000 | 10 year | ISO14443A |
| MF Ultralight | Contactless | 13.56MHz | 64 Byte | 100,000 | 5 year | ISO14443A |
| MF PLUS S2K/4K | Contactless | 13.56MHz | 4 Byte | 200,000 | 10 year | ISO14443A |
| I-Code SLI | Contactless | 13.56MHz | 1024 Bits | 100,000 | 40 year | ISO15693 |
| FM11RF08 | Contactless | 13.56MHz | 1K Byte | 100,000 | 10 year | ISO14443A |
| FM1208 Series | Contactless | 13.56MHz | 8K Byte | 100,000 | 10 year | ISO14443A |
| EM4200/4305 | Contactless | 125KHz | | 100,000 | 10 year | ISO11784/785 |
| T5577 | Contactless | 125KHz | 330 Bits | 100,000 | 10 year | ISO11784/785 |
| Alien | Contactless | 860~960MHz | 512 Bits | 100,000 | 10 year | ISO18000-6C |
| SLE4442/5542 | Contact | | 256 Byte | 100,000 | 10 year | ISO7816 |
| SLE4428/5528 | Contact | | 1 Byte | 100,000 | 10 year | ISO7816 |
Packages:
Box Size: 21.5*6*9cm, 200pcs/box
Carton Size: 21*23*17cm, 1000pcs/carton
Carton Size: 48*23*14cm, 2000pcs/carton
Carton Size: 48*23*19.5cm, 3000pcs/carton
Carton Size: 48*27*23.5cm, 4000pcs/carton
Carton Size: 48*31*23.5cm, 5000pcs/carton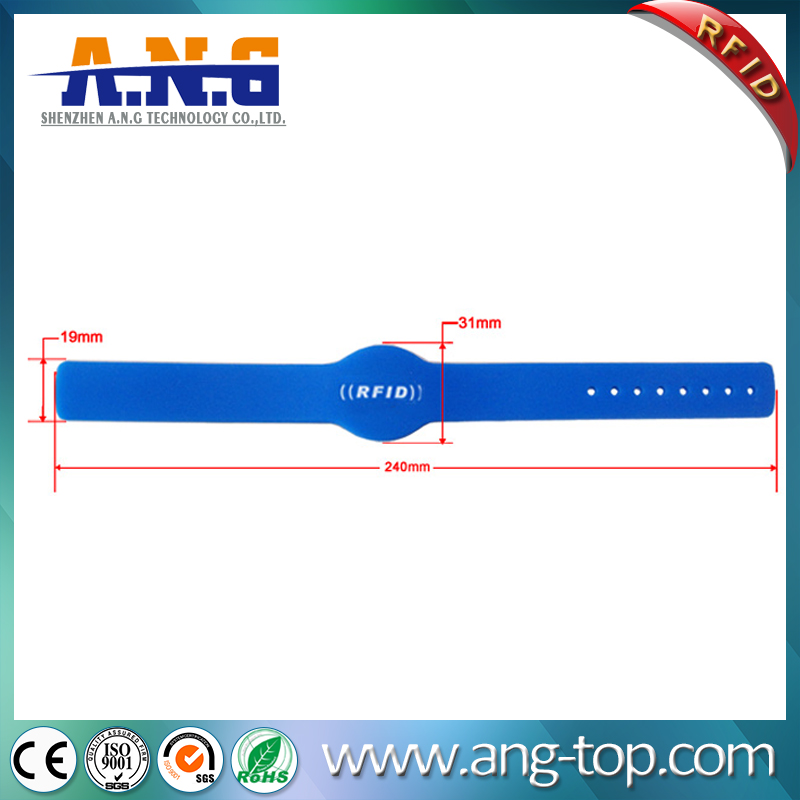 Silicone RFID Wristbands / RFID Chip Bracelet With OEM Printing , Free Sample
---
Tags:
---