UHF RFID Animal visual Ear Tags accurate trace back information
Animal identification provides a farmer or producer to identify a certain animal for reproductive and health concerns, as well as for verification of ownership, biosecurity control, and tracking for research or agricultural purposes.
Ear tags are a must for cattle ranchers, it insures you can track, prevent theft, and control disease outbreak within your herd. It's important to have the right size ear tag and an appropriate style for your environment and the type of animal. Ear tags can be used with a standard stud or our snag-resistant Daisy stud. Our ear tags provide all the options you will need for visual identification of your herd!
What to enter in your holding register,You should record the newborn calf's:
ear tag number

date of birth

sex

breed

birth dam's ear tag number

sire's ear tag number (if known)
What tags to use?
Each animal needs one primary and one secondary ear tag, both showing the same unique individual identification number.
The primary tag must be a yellow plastic distance-readable flag tag. It can go in either ear.
Each part of the primary tag shall only contain the information detailed below:
How to use?
1, First principle is to use an applicator with the appropriate ear tag.
2, Be sure that animal is restrained and the plier is clean.
3, The applicator should enable the operator to see the ear of an animal and should be ergonomic in order to allow applying an ear tag with a single move of the operator without an unnecessary effort.
4, The arms of the applicator may be parallel at the moment of closure, and the operator should feel the click sound.
5, The needle of the applicator provides the strength required to push the pin of the male part through the ear of the animal and into the female part. And this needle should be produced in stainless steel to exclude any risk of allergy or infection to operator and animal. When applied according to the instructions, the process of tag application has no harmful effect on the animal health.
6, Applicator producers such as A.N.G should supply replacement pins whenever needed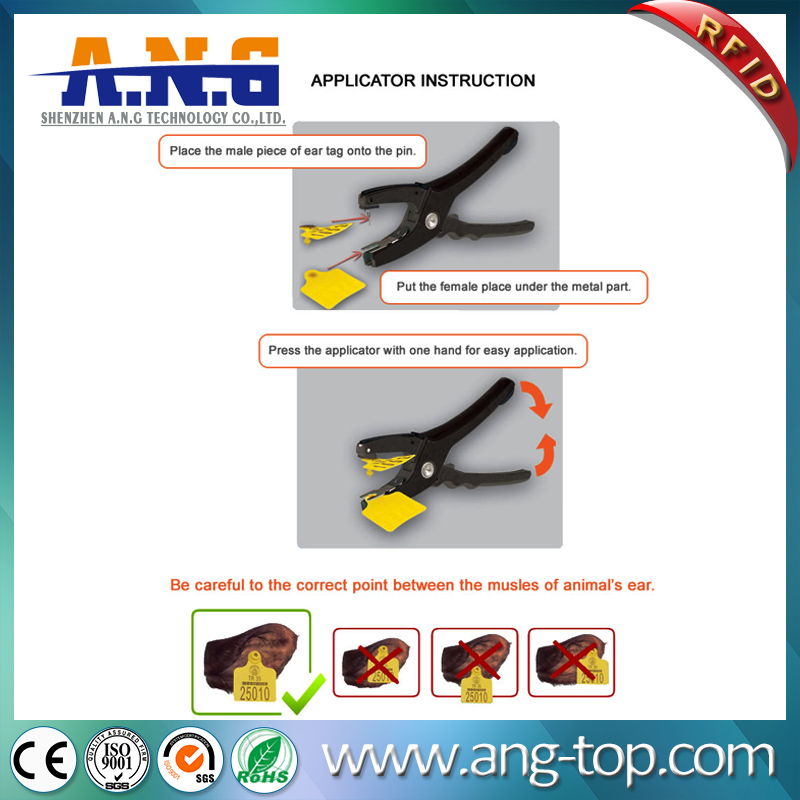 ---
Tags:
---