Animal husbandry animal ear ID tags for cattle magement
UHF livestock tracking tag & UHF animal ear tag is constructed from polyurethane, with specially designed for tracking large animals, such as sheep, cattle and pigs. Available in 125KHz, 134KHz, 13.56MHz or 860MHz~960MHz frequency options, this RFID animal tag provides a good way to improve the efficiency of the animal tracking. It can be made with various chips, such as Hitag-S, EM4100, MF-One S50, UHF EPC Gen2. Thus, with these smart ear tags attached to every cattle, and by scanning each ear tags with RFID reader and transferring the data to the computers and networks, the information of each livestock can be managed on the computer and internet.
Specification
Type: Contactless R/O or R/W
Operating Frequency: LF(125KHz / 134.2KHz) or HF (13.56MHz) or UHF (860MHz~960MHz)
IC Available at 125KHz: EM4200, EM4102, EM4100, EM4001, TK4100, GK4100
IC Available at 134.2KHz: HITAG-S 256 Bit, HITAG-S 2048 Bit
IC Available at 13.56MHz:
I-CODE (ISO 15693-3), MF Ultralight (ISO 14443A), MF1K (ISO 14443A), MF4K (ISO 14443A), Tag-it™ HF-I (ISO 15693-3), others upon request
IC Available at 860MHz~960MHz: UHF EPC Gen2 (EPC CLASS 1 GEN 2)
Size:76*61mm / 49*42mm
Reading Distance: Up to 300cm~500cm (Based on UHF EPC Gen2 Chip)
Material: TPU / PU Anti-allergic Material
Operating Temperature: -40o C to +80o C
Storage Temperature: -40o C to +100o C
Competitive Advantage
1. Waterproof IP 68
2. Anti-allergic Material
3. Read distance: Up to 300cm~500cm (Based on UHF EPC Gen2 Chip)
4. Flexible & easy-to-wear
5. 100, 000 times reading & writing
6. Also Available: Custom colors, OEM logo
Description:
Material
ABS
Size
Female buckle diameter:70*80mm
Intermediate round hole diameter:6mm
Thickness:15mm
or it can be encapsulated in various sizes
Chip Available
Em4305, MF Ultralight
Protocol
ISO 11784/85/  ISO 15693-3 /
Crafts
Injection
Optional Technique
- Special function option Anti-metal layer
- Custom logos/artworks printing/ Laser engrave
- ID Number Printing Jet dot printing
-URL,text,number.etc encoding/lock to read only customez uhf rfid
Other Commodity
Adhesive NFC sticker, non-adhesive label, card, key tag, wristband, etc.
Production leadtime
15 days for less than 100,000pcs
Payment terms
Genernally by T/T, L/C,West-Union or Paypal
Feature
1. Exterior can be designed according to the demand
2. Electronic identification of animals
3. Waterproof , shatterproof , shock
4. Tracking animals
How to use?
1,First principle is to use an applicator with the appropriate ear tag.
2,Be sure that animal is restrained and the plier is clean.
3,The applicator should enable the operator to see the ear of an animal and should be ergonomic in order to allow applying an ear tag with a single move of the operator without an unnecessary effort.
4,The arms of the applicator may be parallel at the moment of closure, and the operator should feel the click sound.
5,The needle of the applicator provides the strength required to push the pin of the male part through the ear of the animal and into the female part. And this needle should be produced in stainless steel to exclude any risk of allergy or infection to operator and animal. When applied according to the instructions, the process of tag application has no harmful effect on the animal health.
6,Applicator producers such as A.N.G should supply replacement pins whenever needed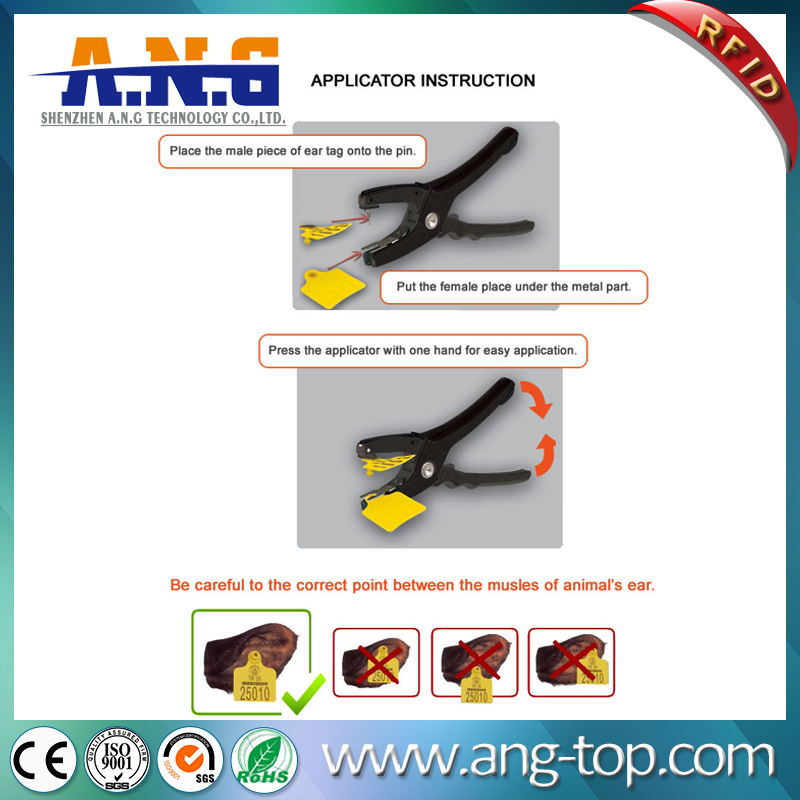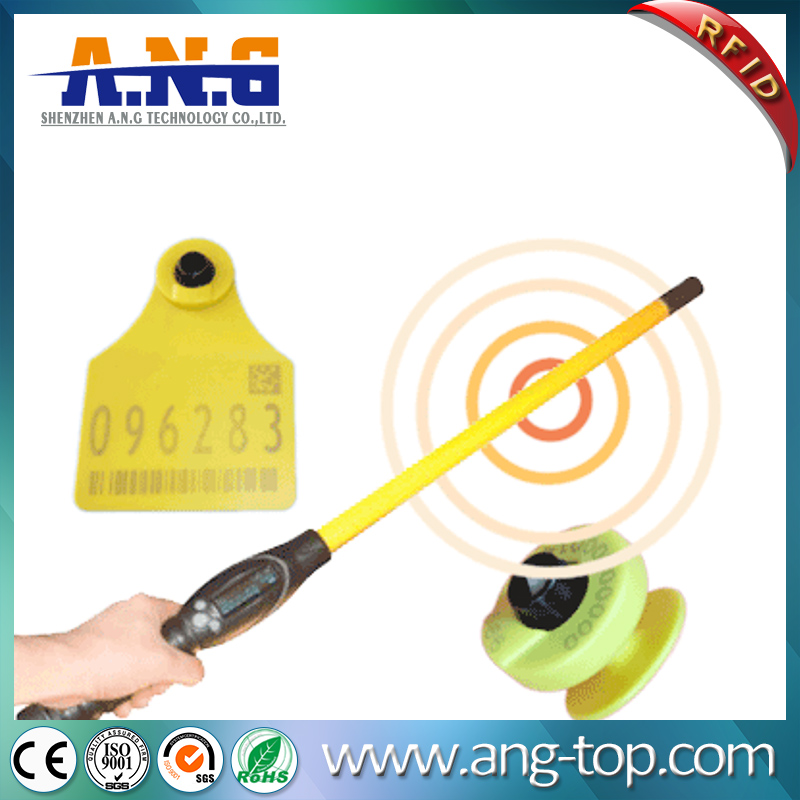 Ultrahigh Frequency Animal Identification Management RFID Ear Tag
---
Tags:
---