125KHz EM4305 TPU RFID Passive Animal Tags For Cattle
RFID Ear tag is produced using top quality European chips with read/write capability and features unique data security.This product provides open-top-side and closed-top-side two designs. Adopting the over molding process, it is waterproof and anti-shedding.
   Ear tag can be used in large or medium size livestock or animals, such as pig, cow, lamb, horse, deer, dog and so on. It can be widely applied in all the field of information management for animals and livestock, such as breeding population, epidemic prevention and quarantine control.
| | |
| --- | --- |
| Chip Type | EM4305 |
| Frequency | 125KHz |
| Supplier | EM |
| Mode | Read / Write |
| Protocol | ISO11784, ISO11785 |
| Memory | 512 BIT |
| Operating Distance | Up to 20cm(depending on antenna geometry) |
| | |
| Dimension | Female Dia 30mm, Male Dia: 30mm |
| Material | TPU |
| Surface | Matte/Glossy/Frosted |
| Temperature | (-25~50ºC) |
| Weight | 13 Grams |
| Package | 100 pieces / bag, or on request |
Management:
1. Ear tag can be written some data in it base on the memory size of the chip.
2. Nail the ear tag into animal's ear with Universal total Tagger or Ultra Retract-O-Matic.
3. RFID reader can detect the ear tags and help to transmit information to the computer for animal          management.
About us: Shenzhen A.N.G Technology CO., Ltd located in Shenzhen, is a high-tech manufacturer specialized in production Radio Frequency Identification Smart Card, NFC Label and Card Reader.
1. Wide Range Products Item
2. Better Price With High Quality And Professional Package.
3. Be Specialized In RFID Tag, NFC Tag And Smart Card For Long Time.
4. Customize Products Depending On Different Project From Customers.
5. Professional Designer, Experienced Salesman And Workers.
6. Advanced Production Experience and Professional R&D Capability.
Applications: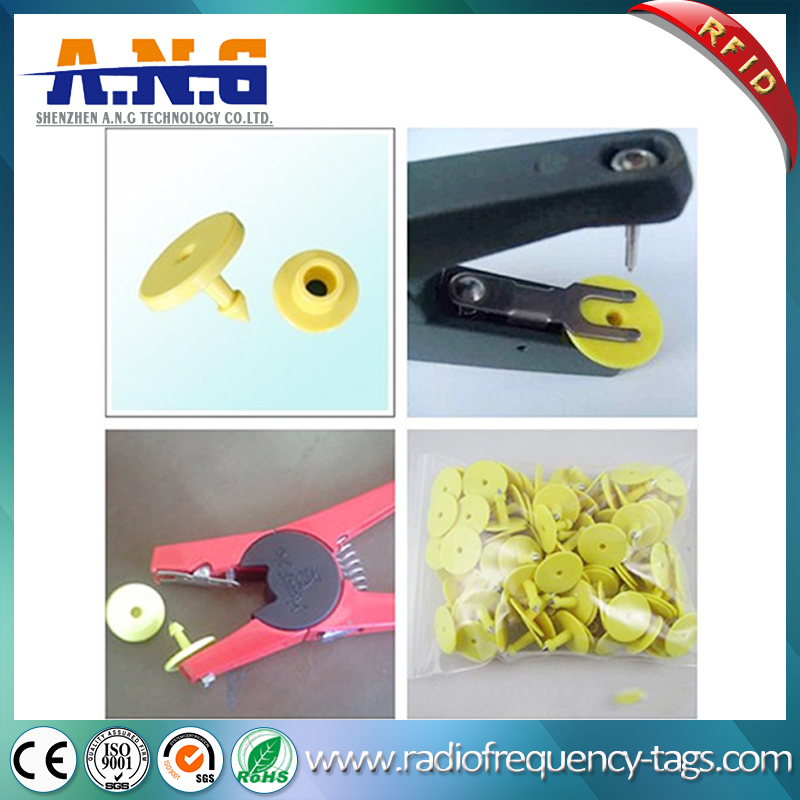 Yellow Read LF TPU Rfid Animal Tags , Cow / Sheep / Cattle Ear Tags Custom Chip
---
Tags:
---