ISO14443 CR80 Plastic RFID PVC Smart Card with Magnetic Strip
Quick Details:
Material: PVC/ABS/PET
Size: CR80, Standard 85.5*54*0.76mm, +/-0.04mm, Any size can be Customized
Frequency: HF(13.56MHz)/UHF(860MHz-960MHz)
Protocol: ISO 14443A/15693, ISO/IEC 18000-6.
Surface: Glossy/Matte/ Frosted
Reading Range: 3-10cm
Antenna: Etched aluminum foil/Copper coils(Can be customized as your requestment)
Chip: MIFARE DESFire EV1 4K
Marked: MIFARE and MIFARE DESFire are trademarks of NXP B.V.
Application: Highly secure Access management
Card Surface
Matte,Gloss Finish, Frosted, Lenticular
Printing
Offset Printing (CMYK Printing, Spot-color Printing); Silk-screen Printing
Specail Craft
gold/silver plated
Hot Stamping: hot gold/silver/laser foil
Laser silver/gold
Code: thermal code (white/black); spot jet code /inkjet printing code(black );UV code; convex code(large/small; gold/silver); laser engrave code (golden).sequential number/series number; personalized number.
Magnetic Stripe: Hi-co 2750oe; Lo-co 300oe. width:12.7mm or 8.4mm
Signature Panel: white, brown, gray,etc
Punching Hole: round hole punching, flat hole punching ,ID hole,etc
Barcode : 39 barcode, 13 barcode, 128 barcode; QR code.
Protecting Film/ Security Hologram: laser film/hologram overlay, protective film
Others: carving, protrait, anti-fack logo, UV logo, laser logo, labeling, watermark,etc
Pakages:
Box Size: 21.5*6*9cm, 200pcs/box
Carton Size: 21*23*17cm, 1000pcs/carton
Carton Size: 48*23*14cm, 2000pcs/carton
Carton Size: 48*23*19.5cm, 3000pcs/carton
Carton Size: 48*27*23.5cm, 4000pcs/carton
Carton Size: 48*31*23.5cm, 5000pcs/carton
CR80 Card Weight: 1000pcs/6KGs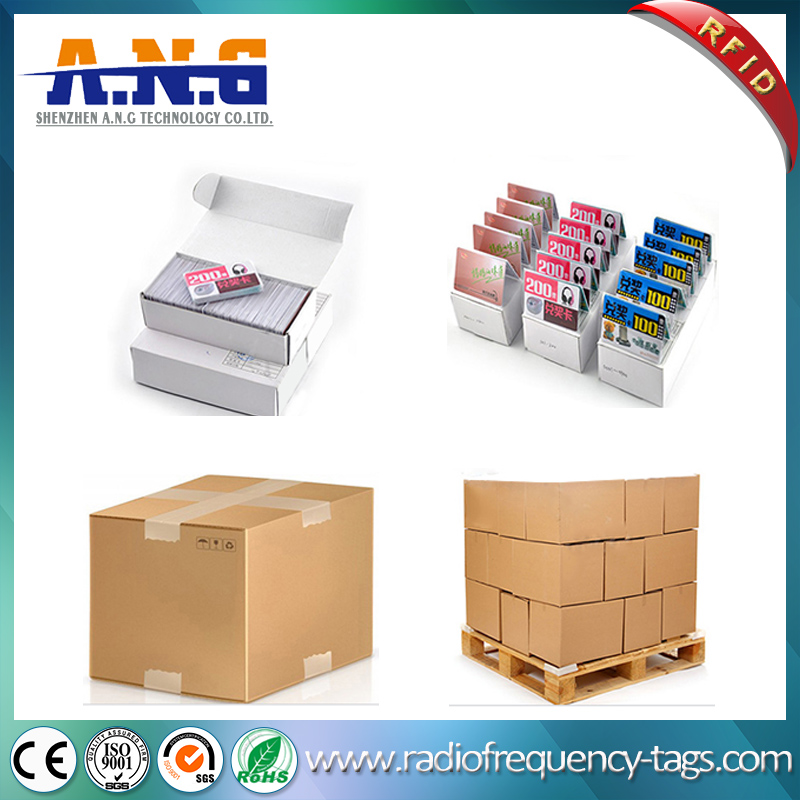 About us: Shenzhen A.N.G Technology CO., Ltd located in Shenzhen, is a high-tech manufacturer specialized in production Radio Frequency Identification Smart Card, NFC Label and Card Reader.
1. Wide Range Products Item
2. Better Price With High Quality And Professional Package.
3. Be Specialized In RFID Tag, NFC Tag And Smart Card For Long Time.
4. Customize Products Depending On Different Project From Customers.
5. Professional Designer, Experienced Salesman And Workers.
6. Advanced Production Experience and Professional R&D Capability.
| | | | | | | |
| --- | --- | --- | --- | --- | --- | --- |
| Chip Model | Type | Frequency | Memory | Endurance | Data Retention | Protocol |
| MF S50 | Contactless | 13.56MHz | 1K Byte | 100,000 | 10 year | ISO14443A |
| MFS70 | Contactless | 13.56MHz | 4K Byte | 100,000 | 10 year | ISO14443A |
| MF Desfire D21 | Contactless | 13.56MHz | 2K Byte | 500,000 | 10 year | ISO14443A |
| MF Desfire D41 | Contactless | 13.56MHz | 4K Byte | 500,000 | 10 year | ISO14443A |
| MF Desfire D81 | Contactless | 13.56MHz | 8K Byte | 500,000 | 10 year | ISO14443A |
| MF Ultralight | Contactless | 13.56MHz | 64 Byte | 100,000 | 5 year | ISO14443A |
| MF PLUS S2K/4K | Contactless | 13.56MHz | 4 Byte | 200,000 | 10 year | ISO14443A |
| I-Code SLI | Contactless | 13.56MHz | 1024 Bits | 100,000 | 40 year | ISO15693 |
| FM11RF08 | Contactless | 13.56MHz | 1K Byte | 100,000 | 10 year | ISO14443A |
| FM1208 Series | Contactless | 13.56MHz | 8K Byte | 100,000 | 10 year | ISO14443A |
| EM4200/4305 | Contactless | 125KHz | | 100,000 | 10 year | ISO11784/785 |
| T5577 | Contactless | 125KHz | 330 Bits | 100,000 | 10 year | ISO11784/785 |
| Alien | Contactless | 860~960MHz | 512 Bits | 100,000 | 10 year | ISO18000-6C |
| SLE4442/5542 | Contact | | 256 Byte | 100,000 | 10 year | ISO7816 |
| SLE4428/5528 | Contact | | 1 Byte | 100,000 | 10 year | ISO7816 |
Structure: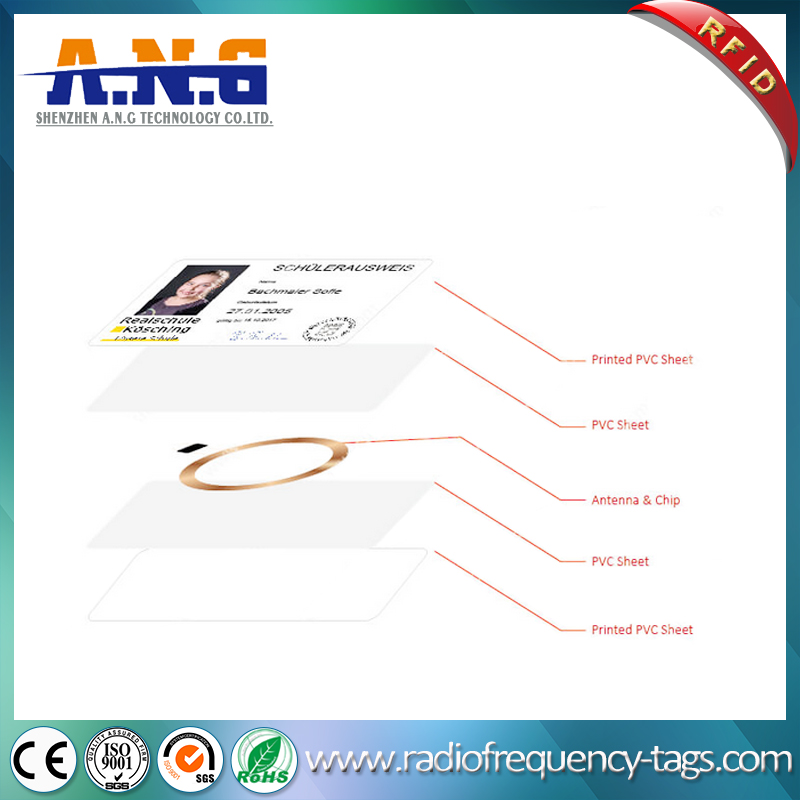 ---
Tags:
---